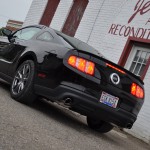 Those crazy cats at Motofinity must be hard-up for media cars; they have to actually buy a car to test it.
All joking aside, (as some of you know, I write for MF), Motofinity Publisher Eric Moretti got the hankering for something new (and blisteringly fast) in his life.  In January 2011, he broke down and placed an order for a brand new Mustang with the 3.73 gears and the Brembo brake package, which apparently was hard to come by in dealer stock.
I watched and listened as the months of production delays quickly turned his anxiousness to buyer's remorse.  Eric constantly questioned his purchase, asking "What else can I get for the same money that isn't boring?"
The usual suspects from Dodge and Chevrolet also made the list.  Neither the Camaro nor the Challenger were as nimble and responsive as the Mustang.  Not to mention the un-inspiring interior of the Challenger or the Camaro's annoyingly large A- & C- pillars.  Several imports crept up on the list, like the Infiniti G37 and BMW 335i.  The imports, however, fail to offer the same value as anything stateside.
See Eric's 2012 Mustang GT Review over at Motofinity.