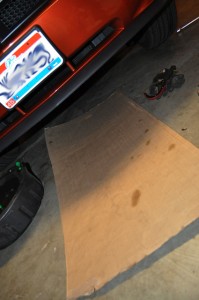 To most of us home mechanics, this is a familiar sight.  An over-sized piece of cardboard becomes your protection from the cold, hard concrete.
You end up using the same piece of cardboard until you spill some oil on it, or worse; develop a back problem.  It'll be at least another 30 years before I need to replace my fridge, so where am I going to get another piece of large cardboard???
I am such a part-time mechanic that the creepers don't make sense for me.  Plus, they aren't as easily stored when not in use.
The guys over at MechaniComfort have come up with a solution.  Their system is rather unique and simple.
I've had the pleasure of living with the MechaniComfort Pads and Supports for about the past month.  Over that time, I have used them rather extensively.  I will break down my thoughts on each product after the jump.
All of the MechaniComfort Products are made with the same materials.  Thick, comfortable foam core that doesn't wear out even after a lot of use.  The surfaces are perfectly fluid-resistant, oil nor gas soaks in.  Trust me…it all wipes off and is ready for re-use.  The MechaniComfort products also feature a non-slip backing that keeps them right where you place them.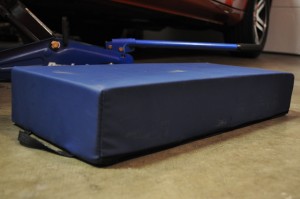 My personal favorite product is the Mechanic Knee Pad.  The Knee Pad is so perfectly sized, it can be used anywhere.  I took it out of the garage and used it in my kitchen while replacing a handle on my dishwasher.  My wife uses it during bath-time for our newborn.  It is so perfectly versatile and comfortable.  Slam your knees down and there is foam to spare.  Get up, and the foam forms the pad back into place.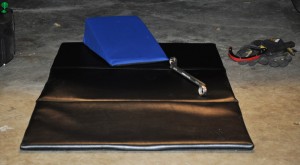 The MechaniMat is also very useful when working under the car.  I found it to be only slightly too small for my tall frame, but it was by no means a problem.   The foam, like the knee pad is very comfortable and insulating on a cold ground.  A 200% improvement over my refrigerator box cardboard.
The MechaniComfort Wedge Headrest pairs nicely with the MechaniMat.  Place the headrest on the mat and Voila!, no more neck aches from being under the car.  Like the Knee Pad, the Wedge has a handle that makes it easy to handle and move.  Also made of the same material, it is very comfortable and durable.
The build quality of the entire line is very impressive.  Made in the U.S.A., these products feel very heavy-duty and are well manufactured.  I had no fear using them in my garage and you shouldn't either.
Hit the link below to check them out!
[Source: http://www.mechanicomfort.com/]